Car of the Month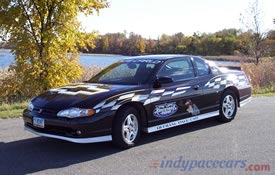 March 2003
2001 Chevy Monte Carlo
Brickyard 400 pace car
Owner: Tim Fox, North Dakota
Tim Fox is the proud owner of a black 2001 Monte Carlo festival car that was used at the 2000 Brickyard 400. The car, which resembles the pace car but with slightly different graphics, is #62 of 100 cars used in pre-race activities and then distributed to the top-selling dealers in a special sales promotion. The car was purchased from Christian Motors in Fertile, MN. Tim says the car actually sat in the showroom for nearly a year before he stumbled across it while shopping for a black Monte Carlo SS.
Tim has put more than 31,000 miles on the car since purchasing it in late 2001. "It's not my daily driver," says Tim, "but up here in North Dakota it's a long drive when we take trips or visit relatives." The car is stock except for a K&N air filter, although Tim says he may consider exhaust and intake mods once his warranty is expired.


Please support this website by visiting our sponsors!
All content ©1999- Indypacecars.com and may not be reprinted without permission.

INDY®, INDYCAR®, INDIANAPOLIS MOTOR SPEEDWAY®, and the INDIANAPOLIS MOTOR SPEEDWAY
WINGED-WHEEL logo are registered trademarks of Brickyard Trademarks, Inc. Indypacecars.com is not
affiliated with, sponsored by, or endorsed by Indianapolis Motor Speedway, LLC or Brickyard Trademarks, Inc.