Car of the Month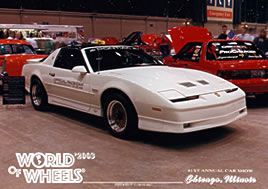 January 2003
1989 Pontiac Trans Am
Owners: Don and Frances Luczak, Chicago, IL
Don and Frances Luczak purchased their 1989 Turbo Trans Am pace car replica in 1990. The car has 33,000 original miles (as of February 2003) and recently won a Show Place award at World of Wheels 2003 in Chicago. Don says the powertrain has been "somewhat modified" (although he did not provide details), but still appears stock. "It is the best looking TTA in the midwest," says Don.


Please support this website by visiting our sponsors!
All content ©1999- Indypacecars.com and may not be reprinted without permission.

INDY®, INDYCAR®, INDIANAPOLIS MOTOR SPEEDWAY®, and the INDIANAPOLIS MOTOR SPEEDWAY
WINGED-WHEEL logo are registered trademarks of Brickyard Trademarks, Inc. Indypacecars.com is not
affiliated with, sponsored by, or endorsed by Indianapolis Motor Speedway, LLC or Brickyard Trademarks, Inc.