Car of the Month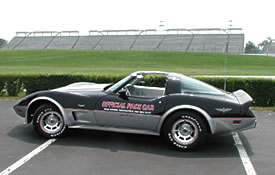 February 2003
1978 Chevrolet Corvette
Owner: Ron Gliot,
Lake In The Hills, IL
Ron Gliot purchased his 1978 Corvette pace car in November 2001. The car was purchased from Cn'V Corvettes in Tempe, AZ and was apparently obtained from Utah. According to Ron, the car was originally sold by Gourley Chevy in Sewickley, PA. Ron has spent the last year restoring the car and is about 95% done. The car has an L48 engine and automatic transmission. Inside, the car has an AM/FM/CB radio and all of the standard pace car options. The picture above was taken by Ron at the Indianapolis Motor Speedway.


Please support this website by visiting our sponsors!
All content ©1999- Indypacecars.com and may not be reprinted without permission.

INDY®, INDYCAR®, INDIANAPOLIS MOTOR SPEEDWAY®, and the INDIANAPOLIS MOTOR SPEEDWAY
WINGED-WHEEL logo are registered trademarks of Brickyard Trademarks, Inc. Indypacecars.com is not
affiliated with, sponsored by, or endorsed by Indianapolis Motor Speedway, LLC or Brickyard Trademarks, Inc.