Car of the Month
October 2000
1972 Hurst/Olds Indy Pace Car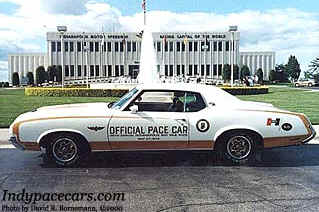 Owner: David and Donna Bornemann, Wildwood, IL
David and Donna are the proud owners of this 1972 Hurst/Olds Indy Pace Car replica. David purchased the car in 1993 in rough shape and without any decals. During the next year David and his brother-in-law worked to restore the car. According to David, "The only thing that wasn't done to this car was to remove the shell from the frame." Although the car sports an Indy 500 Festival emblem (the round emblem just behind the door) that normally signifies a festival vehicle, David tells me that these decals were also available through dealers in 1972.
David's '72 Hurst/Olds now has 65,500 miles on it, and they "love to drive it anywhere." It is one of only 220 hardtops produced with electric sunroofs, and has a 455 CI engine with a TH 400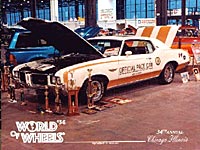 transmission and a 3.23 rear end. His car has won numerous awards and was even featured in this month's Collectible Automobile Magazine.
For being selected as "Car of the Month", David has won his choice of a Johnny Lightning pace car replica from the gift shop, an 8x10 information sheet on the 1995 Corvette pace car, or a poster from the IndY2K Chevrolet Pace Car Reunion. If you would like to submit your pace car replica for "Car of the Month", simply send a photo and description of your car to If you do not have a scanner, e-mail me and I will provide you with a mailing address so you can snail-mail photos to me. Please remember that the more details you can provide about your car, the better!


Please support this website by visiting our sponsors!
All content ©1999- Indypacecars.com and may not be reprinted without permission.

INDY®, INDYCAR®, INDIANAPOLIS MOTOR SPEEDWAY®, and the INDIANAPOLIS MOTOR SPEEDWAY
WINGED-WHEEL logo are registered trademarks of Brickyard Trademarks, Inc. Indypacecars.com is not
affiliated with, sponsored by, or endorsed by Indianapolis Motor Speedway, LLC or Brickyard Trademarks, Inc.