Car of the Month
November 2000
1963 Chrysler '300' Pace Setter Series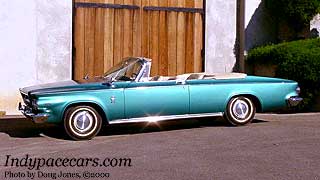 Owner: Doug Jones,
Boulder Creek, CA
Although it may look like any other classic convertible at first glance, Doug Jones' 1963 Chrysler 300 is far from ordinary. It is clear that Doug takes great pride in his car, one of 1,861 "Pace Setter Series" convertibles built by Chrysler.
Doug purchased the car, which he named "Delilah", in 1974 for $500. The car was in rough shape, but Doug and his friends spent the next few years searching junkyards for parts to make Delilah whole again. The real restoration began in 1977, when the car was repainted and reupholstered. By 1980 the restoration was complete, and twenty years later the car still looks fantastic. Delilah is now a regular in the San Jose Veterans Day parade and has been shown at many car shows over the years.
Doug's Chrysler 300 is powered by a 383ci 2 bbl. V8 engine with TorqueFlight transmission. The Pace Setter edition had many options available that were uncommon for its day, including power windows, power driver's and passenger's seats, air conditioning, cruise control, and dual side mirrors. Doug was also able to find a set of New Yorker wheel covers, which were used on the original Indy 500 festival cars. It is clear that Doug has put a lot of time and effort into his car and has given "Delilah" a warm and loving home.
For being selected as "Car of the Month", Doug has won his choice of a Johnny Lightning pace car replica from the gift shop, an 8x10 information sheet on the 1995 Corvette pace car, or a poster from the IndY2K Chevrolet Pace Car Reunion. If you would like to submit your pace car replica for "Car of the Month", simply send a photo and description of your car to If you do not have a scanner, e-mail me and I will provide you with a mailing address so you can snail-mail photos to me. Please remember that the more details you can provide about your car, the better!
Here are some more photos of "Delilah", courtesey of Doug Jones.


Please support this website by visiting our sponsors!
All content ©1999- Indypacecars.com and may not be reprinted without permission.

INDY®, INDYCAR®, INDIANAPOLIS MOTOR SPEEDWAY®, and the INDIANAPOLIS MOTOR SPEEDWAY
WINGED-WHEEL logo are registered trademarks of Brickyard Trademarks, Inc. Indypacecars.com is not
affiliated with, sponsored by, or endorsed by Indianapolis Motor Speedway, LLC or Brickyard Trademarks, Inc.