Car of the Month
August/September 2000
1999 Chevrolet Camaro festival car
Owner: Dave Rynard, Indianapolis, IN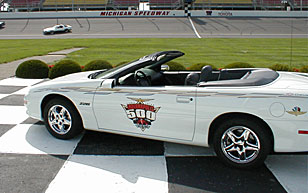 Dave's 1999 Camaro Z28 convertible is a very special car — it is festival car #2 from the 1999 Indy 500, used by Tony George. Dave was lucky enough to pick this car up after the 500 with only 1000 miles on it... and has since proceeded to rack up the miles by taking his car to shows around the country. The picture to the right was taken at the Camaro Superfest at the Michigan Speedway.
Although the 1999 Indy 500 Pace Car was the Monte Carlo, Chevrolet provided these Camaro convertibles for parade duty and for use by Indy officials, dignitaries, and members of the press.
For being selected as "Car of the Month", Dave has won his choice of a Johnny Lightning pace car replica from the gift shop, or an 8x10 information sheet on the 1995 Corvette pace car. If you would like to submit your pace car replica for "Car of the Month", simply send a photo and description of your car to If you do not have a scanner, e-mail me and I will provide you with a mailing address so you can snail-mail photos to me. Please remember that the more details you can provide about your car, the better!


Please support this website by visiting our sponsors!
All content ©1999- Indypacecars.com and may not be reprinted without permission.

INDY®, INDYCAR®, INDIANAPOLIS MOTOR SPEEDWAY®, and the INDIANAPOLIS MOTOR SPEEDWAY
WINGED-WHEEL logo are registered trademarks of Brickyard Trademarks, Inc. Indypacecars.com is not
affiliated with, sponsored by, or endorsed by Indianapolis Motor Speedway, LLC or Brickyard Trademarks, Inc.