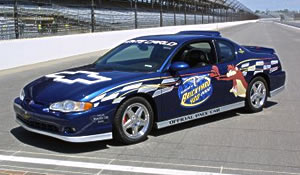 2002 Brickyard 400
Chevrolet Monte Carlo pace car and
Camaro SS track cars
For the sixth consecutive year, the Chevy Monte Carlo was selected as the pace car for NASCAR's Brickyard 400, held August 4, 2002 at the Indianapolis Motor Speedway. Chevrolet has sponsored the Brickyard 400 since its inception in 1994 and is contracted as the sole provider of support vehicles for the race. Previous pace cars include the Chevy C-1500 pickup (1995), Camaro Z-28 (1996), and six previous versions of the Monte Carlo (1994 and 1997-2001).
This year's pace car is a 2003 edition Monte Carlo SS in Superior Blue paint and Galaxy Silver ground effects. The car's graphics include the Brickyard 400 logo and Warner Brothers' "Taz", Team Monte Carlo's official mascot. The car was driven by Chevrolet general manager Kurt Ritter.
Few modifications were made to allow the Monte Carlo to perform its pace car duties. Under-the-hood changes include a revised fresh air induction system, installation of a low-restriction exhaust and increased engine cooling capability which raise output of the normally-aspirated 3800 V6 to 230 horsepower at 5200 rpm and 250 lbs.-ft. of torque – an increase of 30 horsepower and 25 lbs.-ft. of torque compared to the production vehicle. The suspension system has been mildly lowered and the special cast aluminum wheels are wrapped with Goodyear Eagle GS/C P245/50ZR-17 performance tires.1
Accompanying the Monte Carlo pace cars at the Brickyard 400 was a fleet of silver Chevy Camaro convertibles. Twelve Z-28s, reused from the Indy 500 festivities, and 44 SS models were used for festival and parade duties, all decked out with Brickyard 400 graphics. 43 of the 44 Camaro SS convertibles were later distributed to Chevy dealers in the North Central Region to be sold to the public. A list of dealerships receiving Brickyard 400 Camaro SS festival cars can be found here.
1. Source - GM press release, 26 July 2002
Related links:
07/26/2002 - Monte Carlo Heads The Field For The 2002 Brickyard 400 - gm.com
2002 Brickyard 400 pace car photo gallery at brickyard.com
2002 Camaro SS track cars:


Please support this website by visiting our sponsors!
All content ©1999- Indypacecars.com and may not be reprinted without permission.

INDY®, INDYCAR®, INDIANAPOLIS MOTOR SPEEDWAY®, and the INDIANAPOLIS MOTOR SPEEDWAY
WINGED-WHEEL logo are registered trademarks of Brickyard Trademarks, Inc. Indypacecars.com is not
affiliated with, sponsored by, or endorsed by Indianapolis Motor Speedway, LLC or Brickyard Trademarks, Inc.