This site is devoted to the great American automobiles chosen each year to lead the pack at the Indianapolis 500. Known as "The Greatest Spectacle in Racing", the Indy 500 is about much more than which driver will take the checkered flag. It also gives auto makers the opportunity to take a production car and make it worthy of the Indy 500 badge. The Indy pace car represents the best in American automotive technology. This website explores the rich history and tradition behind these prestigious automobiles.
Latest news: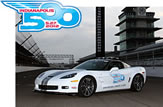 2013 Chevrolet Corvette ZR1 to pace the 2012 Indianapolis 500
After a three year hiatus, the Corvette returns in 2012 as the Official Pace Car for the 96th Indy 500. The ZR1 is supplemented by a fleet of 2012 Camaro SS convertibles.


Indypacecars.com gift shop updated
Our gift shop pages have finally been updated to reflect current inventory, and several new items have been added!
T-shirts: Three new Camaro t-shirts and a retro Trans Am shirt too!
1/18 scale: 1980 and 1989 Trans Ams now in stock, plus hard-to-find previously owned models.
1/64 scale: Now in stock, the 2010 and 2011 Camaro pace car diorama pack from Greenlight!

Now available: The Official Chevrolet Indy Pace Car Book, from 1948 to 1990
This is a must-have for anyone researching a Chevy pace car, especially the 1967 and 1969 Camaro or 1978 Corvette. You'll find information on VIN and cowl tag numbers you won't find anywhere else! These books are "new old stock" direct from the publisher. Purchase your copy today for only $16.95 (+ S&H). It can also be combined with any of the die-cast cars from our gift shop area.
What's new at Indypacecars.com:
The site is currently in the process of being updated and the "what's new" section will be updated accordingly. For now, you can use the links below to quickly find featured content areas on the site:
Pace car diecasts: 1/18 scale, 1/24 scale, 1/64 scale, and Franklin Mint (1/24 scale) diecasts
Looking for replacement pace car decal kits? Direct links to purchase select kits from Amazon.com, plus links to additional replacement decal vendors.
Looking to buy or sell a pace car?
Check out Collector Car Trader Online!

Administrative note: The address "webmaster [at] indypacecars.com" is NEVER used for outgoing mail. If you receive an email from this address, it is a forgery and may contain a virus.
Do you have personal photos or press release pictures of Indy 500 pace cars? Personal and non-copyrighted photos are always needed for this site. Please contact me at
---
Please support this website by visiting our sponsors!
Web site design by


All content ©1999- Indypacecars.com and may not be reprinted without permission.

INDY®, INDYCAR®, INDIANAPOLIS MOTOR SPEEDWAY®, and the INDIANAPOLIS MOTOR SPEEDWAY
WINGED-WHEEL logo are registered trademarks of Brickyard Trademarks, Inc. Indypacecars.com is not
affiliated with, sponsored by, or endorsed by Indianapolis Motor Speedway, LLC or Brickyard Trademarks, Inc.
234224